WHAT IS PLASTERBOARD?
Plasterboard is a panel made of calcium sulfate dihydrate (gypsum) usually pressed between a facer and a backer. It is used to make interior walls and ceilings. This 'Drywall' construction became popular as a quicker alternative to traditional lath and plaster.
Plasterboard is used to help builders and designers meet building regulations for fire protection, acoustic insulation and thermal efficiency. It can also help to control condensation and potential damage in areas of high humidity.
ABOUT PLASTERBOARD
Are there other names for plasterboard? Plasterboard is also known as gypsum board, drywall, wallboard or wall panels. Commercial brands for plasterboard in the UK include Siniat and Gyproc.
When to use plasterboard?The primary use of plasterboard is to build partitions wall linings or ceilings in any building, ranging from hospitals and schools to shops and domestic properties. Newer, more innovative plasterboards can also be used for external sheathing purposes.
Why should plasterboard be used? There are many benefits of using plasterboard. Firstly, it provides a smooth finish to decorate. Secondly, it is lightweight and easy to install, and can be used to create features such as curved walls. It can also a be used as simple solution to meet Building Regulations for fire, acoustic, moisture and thermal performance.
TYPES OF PLASTERBOARD
What types of plasterboard are there?
Plasterboards can be grouped into the following main categories, based on performances:
PLASTERBOARD - HOW TO
How to install plasterboard?
Plasterboard should be fixed to either a metal frame or a timber frame Siniat recommends metal frames. View our How To videos or see our Drywall manuals on how to install a partition, ceiling or wall lining using a metal frame.
How do I meet Part B Fire Regulations with plasterboard? Gypsum is a naturally fire resistant material, which locks in water that will be released during a fire. This water controls the temperature, allowing plasterboard systems to survive a fire for substantial lengths of time. Siniat's Partitions and Siniat Ceilings achieve a full range of fire resistance for 30, 60, 90 and 120 minutes using our fire boards.

Ho can I meet Part L Building Regulations? New builds or property renovations require compliance with Part L Building Regulations, which involves ensuring the property construction meets specified thermal U-Values. These values can be met by using a combination of Siniat drywall plasterboard products and drylining systems and are dependent on various factors such as original wall construction, space and price. Our U Value Calculator App enables you to determine the most appropriate products for your particular requirements, whilst complying with the regulations.
PLASTERBOARD AND SUSTAINABILITY
Is plasterboard environmentally friendly? Plasterboard is 100% recyclable which means nil waste should go to landfill. Siniat's plasterboards also have a BES6001 'Very Good' Responsible Sourcing certification.
PRACTICAL SUPPORT FROM OUR TECHNICAL EXPERTS
Complete Drywall Manual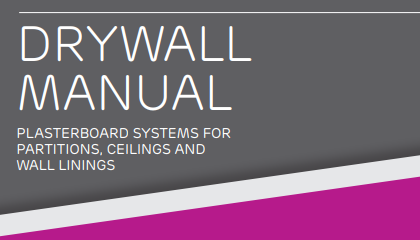 Complete Drywall Manual
Download our Drywall Manual - The complete product installation guide divided in to user-friendly reference sections.
Technical Services

Technical Services
The Siniat highly trained Technical Services is available to answer any technical queries you have and advise on installation details to system specifications to improve Fire, Sound and Thermal performance. Call: 01275 377 789 Email: technical.services@siniat.co.uk