WEATHER DEFENCE™
Can be installed and left exposed
for up to 12 months

Weather Defence™
Lightweight, fast and easy to install

WEATHER DEFENCE™
FULLY A1 NON-COMBUSTIBLE,
compliant for structures above 18m

WEATHER DEFENCE™
SUSTAINABLE AND ECO FRIENDLY,
FULLY RECYCLABLE GYPSUM CORE

WEATHER DEFENCE™
WEATHERPROOF BUILDINGS FOR LONGER

WEATHER DEFENCE™
FIRE COMPLIANT, EVEN FOR THE TALLEST BUILDINGS

Weather Defence™
REDUCE WASTE ON YOUR NEXT PROJECT

Weather Defence™
LIGHTWEIGHT AND QUICK TO INSTALL
WEATHER DEFENCE™
Have you ever wondered why a lot of the buildings being constructed have a purple sheathing board on the outside?
It's because this purple board is the award wining Siniat Weather Defence™
Siniat, the developers of the first gypsum external sheathing board, have seen it specified by 45% of AJ Top 100 architects and over 75% of Construction News' Top 20 main contractors.
So next time you're near a construction site and see a purple building, think Siniat Weather Defence™. #anotherpurplebuilding



A1 non combustible



12 months warranted Exposure



recyclablE

WHY EVERYONE IS USING WEATHER DEFENCE™
WEATHER DEFENCE™ the only sheathing board to combine A1 non-combustibility, 12 months exposure on frame and recyclability.
It's the clear choice when it comes to making the building envelope weather-tight. No wonder it's the go-to solution for specifiers.


Compliance
Weather Defence™ is A1 non-combustible, offering the highest level of fire safety and is compliant for structures above 18m.


We offer technical advice, site checks and toolbox talks to support the installation process.



Can provide upto 120mins fire resistance to EN 1364-1 when used within our Thruwall® systems
Keeping costs down
It's 50% quicker to install than cement particle board and 30% lighter, making it easy to lift and move around site.


There's no need for specialist cutting equipment.


It can eliminate the need for a breather membrane helping reduce costs by taking a stage out of the weather-tightness process.


12 Year System Warranty.
Sustainability
The gypsum core of Weather Defence™ is fully recyclable.


What's more, we can arrange waste collection for recycling as part of our circular economy approach using sister-company Crucible.


The simple score and snap properties eliminate dust and excess noise on site.


Dont just take our word for it...



"Siniat are looking to be innovative and we as an industry are looking at all manner of innovations that assist in cutting down waste and simplifying the process.

Siniat have been very good at that on this particular project and we'veembraced that."

Vernon Hailwood, Design Manager,
Graham Construction (University of Salford Project)
"…the job was completed much faster, more safely and we saved money."
Lee Davis, Site Manager,
Manorcraft
________________________________
"The lighter weight of Weather Defence™ meant we could easily cut holes in situ without having to bring the board down to the ground each time. This sped up construction."
Jurgen Mensinga, Director,
Elite Cladding Systems

THRUWALL® - PEACE OF MIND BUILT IN
THRUWALL® - PEACE OF MIND BUILT IN
Siniat Weather Defence™ forms a key component of Etex's Thruwall® system, a fully-tested and certified non load-bearing infill system – with a 30 year warranty built in.
The Thruwall® System comprises:
The external sheathing or carrier board
Light gauge steel framing
The internal wall lining
CONTACT OUR TECHNICAL TEAM
CONTACT OUR TECHNICAL TEAM
Why hire professional models when we have so much great talent within our own organisation!
Meet some of the team - Every area of the business is essential to our success, all working together on the common goal, to provide the best products and services we can.
Rebecca Case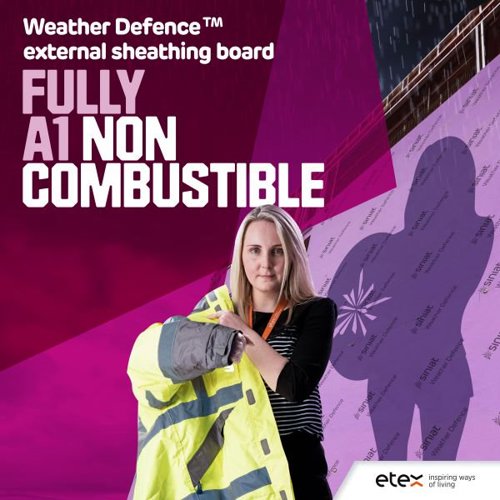 Rebecca Case
'I really enjoyed the opportunity to be a part of the Weather Defence™ ​​​​​​​ photoshoot and support a campaign for one of our fantastic products. Plus, who doesn't want to be turned into a superhero for an afternoon?!'
Rebecca Case, HR Manager Etex UK and Weather Defence™ Hero
Richard José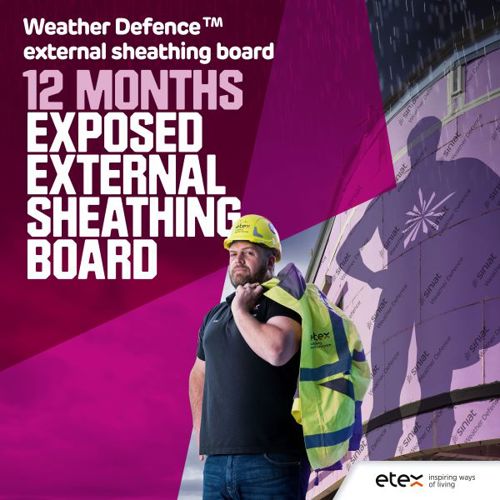 Richard José
'I was approached by our Marketing team to "model" for the Weather Defence™ ​​​​​​​ board. I practiced enough in the mirror so all felt rather natural, haha. The cause was clear, to promote our strong, versatile, and sustainable board, three words used also to describe me! I can see why I was picked to be honest! '😉
Richard José, Compliance and EMS Advisor in our Bristol plant and Weather Defence™ ​​​​​​​ Hero
Hannah Oliphant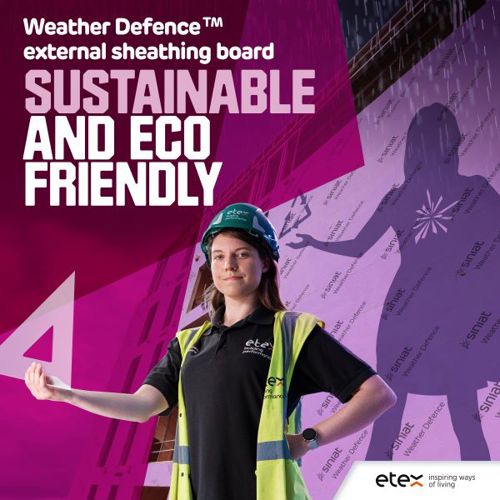 Hannah Oliphant
'During the photoshoot, the people were really lovely and made you feel like you were a part of something really special. It was nice to be a part of something to really promote the company.'
Hannah Oliphant, Quality Control Manager at our Bristol Plant and Weather Defence™ ​​​​​​​ Hero.
Rick Henry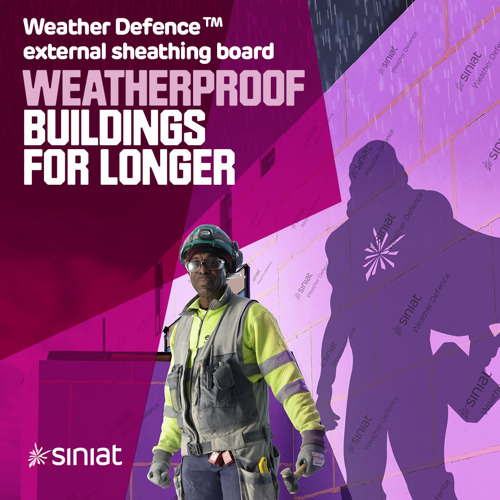 Rick Henry
'It was a pleasure doing the photo shoot, as you can see with my profile, I'm a natural (ha ha!). Also I have had lots of great reviews from my fans/working colleague @ Ferrybridge.'
Rick Henry, Multi-tasking Engineer , Ferrybridge and Weather Defence™ ​​​​​​​ Hero.
Mike Morris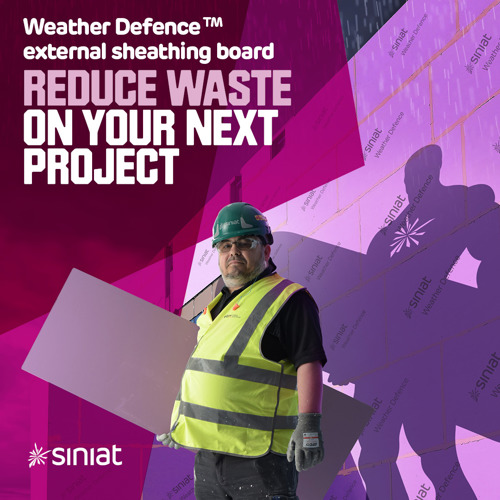 Mike Morris
'A great privilege to be able to take part in the Weather Defence Heroes campaign, the photography crew were very professional and made it feel easy to do, my daughter is a model so now I know where she gets it from 😉'
Shift Team Manager, Ferrybridge and Weather Defence™ ​​​​​​​ Hero.
Wesley Brown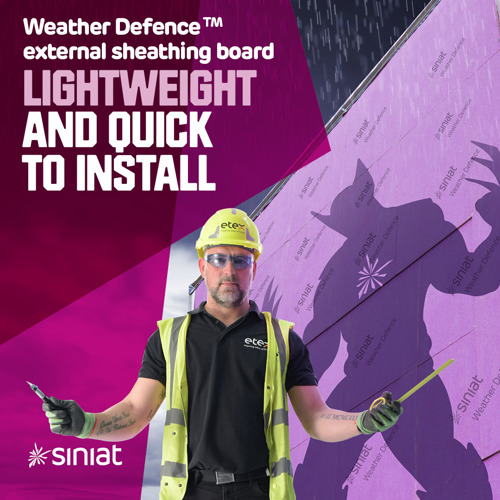 Wesley Brown
'To be fair I couldn't resist an opportunity to have a bit of a laugh and be part of the campaign. When they said I would take on the character of Wolverine, I thought that it suited me well "rough and ready, and always willing to take on a challenge" 😉 . The day was great fun.'
Warehouse Manager, Ferrybridge and Weather Defence™ ​​​​​​​ Hero